How Much Does It Cost to Live at Delmanor Retirement Communities?
A Comprehensive Guide by SeniorCareAccess
Deciding where to spend your retirement years is a big decision that involves multiple factors. Among these factors, the cost of living is often one of the most critical. For those considering Delmanor Retirement Communities, understanding the costs involved is essential. So, how much does it cost to live at Delmanor? Let's delve into the details.
What is Delmanor?
Before we get into the nitty-gritty of costs, it's important to understand what Delmanor Retirement Communities offer and what sets it apart from many competing retirement living companies. Delmanor provides a luxury living experience for seniors, focused on quality amenities, healthcare, and social activities. The objective is to ensure a retirement lifestyle that is not just comfortable but enriching.

Discover life on your terms at Delmanor Retirement Communities, presented by the Tridel Group of Companies. Delmanor believes that each resident is 'the author of their own life story'. They respect each resident's individuality and offer independent and assisted living options. For those with dementia, they have MemoryPlus areas in select residences. Over two decades Delmanor has honed its commitment to exceeding expectations through care, accommodations, and its understanding of the type of housing many seniors are looking for. They highlight the following key features:
People-Centric Approach

Personalized experiences to match individual needs and preferences.

A commitment to fostering a community where residents feel truly at home.

Flexibility and Freedom

An array of lifestyle options to suit each person's unique preferences.

The freedom to live life on your own schedule, participating in activities that interest you.

Your Story, Your Way

Delmanor gives you the framework to fill your life's pages the way you see fit.

An encouraging environment where the story is yours to write.
Types of Accommodations
Delmanor Retirement Communities offer various types of accommodations such as independent living, assisted living, memory care, supportive, short-term stay, and specialized care.
It also features many suite sizes and options including:
1 bedroom
1 bedroom plus den
2 bedroom and
2 bedrooms plus den
The cost differs based on the kind of accommodation and services you opt for and the suite options may also differ from community to community.
Independent Living
For seniors who are largely independent but seek the social benefits, luxury, and security of a community, independent living options are available. These typically include an apartment or a suite.
Assisted Living
If you require support, Delmanor also offers assisted living options. These come with additional health and personal care services.
Specialized Care
For seniors requiring specialized medical attention or memory care, Delmanor Retirement Communities provide specialized services, which are typically the most costly among the three due to the additional care needs.
Cost Factors at Delmanor
So, how much does it cost to live at Delmanor? While the exact numbers can vary greatly depending on your choices and needs, here are some of the factors that contribute to the cost:
1. Type of Accommodation
As stated earlier, the kind of living space you opt for would greatly influence the cost.
2. Location
The cost can also vary depending on which Delmanor community you choose. Some locations may be priced higher due to the cost of living in that area or the range of amenities offered.
3. Additional Services
Services like specialized medical care, transportation, and extra activities can add to the basic cost.
The chart below offers starting pricing for each community based on 2023 figures provided to www.seniorcareaccess.com.
| | | |
| --- | --- | --- |
| Community Name | Monthly Cost Starts: Rent Only | 2nd Person |
| | $4195.00 | $750.00 |
| | $3595.00 | $875.00 |
| | $4095.00 | $890.00 |
| | $5195.00 | $970.00 |
| | $4795.00 | $860.00 |
| | $5495.00 | $970.00 |
Prices will vary based on each community, suite type, and level of services selected. For specific prices, available room types, and care packages, please be sure to contact the community of choice and request a specific quote. The costs reflect starting costs only and are subject to change.
The best way to know how much it would cost for you to live at a Delmanor Retirement Community is to get a personalized quote. Contact the Delmanor team of your choice to discuss your specific needs and preferences.
Choosing where to retire is a crucial decision that requires careful financial planning. Delmanor Retirement Communities offers a range of options, services, and payment plans that allow you to tailor your experience based on your needs. While the cost of living at Delmanor can vary significantly based on multiple factors, it offers a luxurious, enriching experience that many find to be well worth the investment.

Choose a Delmanor Community below to view images, details, and contact information.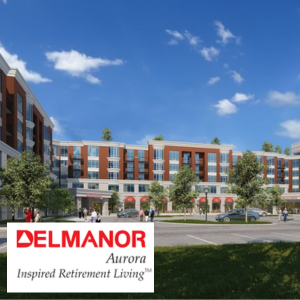 References: information obtained from www.Delmanor.com and www.SeniorCareAccess.com