An Overview of Mississauga Retirement Homes and Living
Making the transition to a retirement home can be a significant decision for seniors and their families. Mississauga offers a diverse range of options, tailored to cater to the unique needs and preferences of its elderly residents while still providing a vast range of available resources, amenities, and community support of a larger city. This article aims to provide comprehensive information for both seniors and their adult children, assisting in the process of making the right choice.
Why Mississauga?
Mississauga is a vibrant city in Ontario, Canada, offering an array of cultural, recreational, and medical amenities that cater specifically to the senior demographic. From serene parks to world-class healthcare facilities, world-renowned architecture, and indigenous lands, it's a place where seniors can truly feel at home.

Mississauga is home to a number of reputable retirement communities offering a range of services and amenities catering to the diverse needs of seniors. With the city's close proximity to Toronto, seniors benefit from the tranquility of suburban life without being too far from the bustling activities of a metropolis.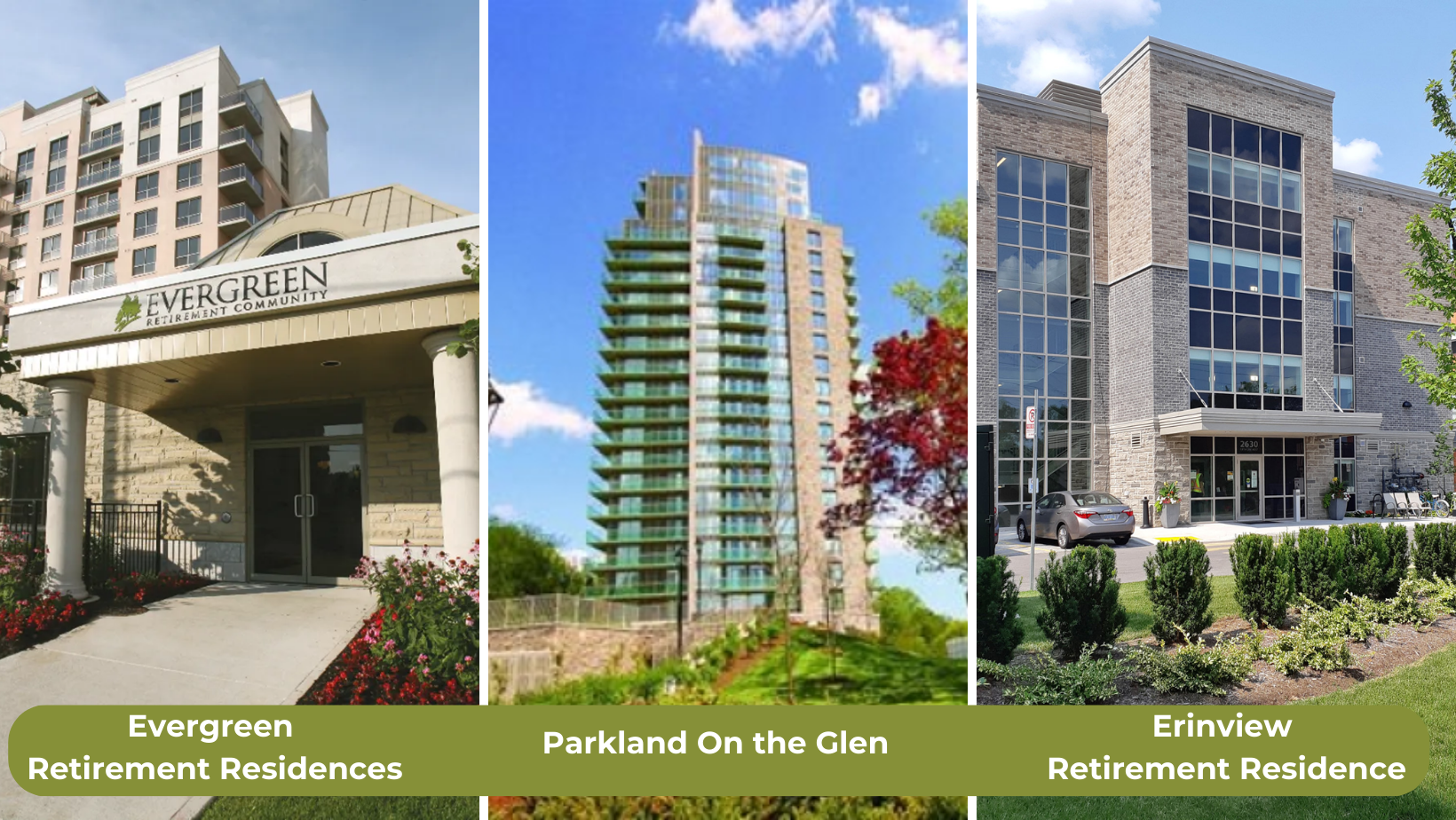 Factors to Consider:
Location: Proximity to family, shopping centers, medical facilities, and recreational areas.
Services: Meal plans, housekeeping, medical aid, and activities offered.
Cost: Monthly fees, additional services, and payment plans.
Safety: Security measures, emergency response systems, and staff training.
Atmosphere: Community vibes, resident demographics, and overall comfort.
Level of care: Options of care and support requirements.
Planning the Transition:
For many, the move to a retirement home marks a new chapter in life. It's crucial to:
Engage in Open Discussions: Ensure both seniors and their adult children are part of the conversation. Understand the needs, concerns, and preferences of the senior.

Visit Multiple Homes: To make an informed decision, it's beneficial to explore multiple options and gauge which feels right.

Consider Future Needs: While immediate requirements are paramount, it's also crucial to think about potential future medical or mobility needs.

Choosing a retirement home in Mississauga is a decision that involves careful consideration and planning. With the right research and understanding, both seniors and their families can find a place that feels just like home.
Types of Senior Care in Mississauga
Mississauga retirement homes provide varying levels of care:
Active Adult Living (55-plus Living): Communities geared towards independent seniors, often involving recreational activities and social events.
Independent Living: Ideal for seniors who require minimal assistance and wish to lead an independent life. There is no government assistance for this type of care and each home sets its own rated based on several factors.
Assisted Living: A middle-ground option where seniors receive help with certain tasks but still maintain some level of independence. Usually, this type of care is offered and falls under a retirement home so here too, rates are determined by the individual property, and applications are sent directly to the home a person is interested in.
Long-term Care: Also known as nursing homes, these offer the highest level of care, catering to those with significant health needs. Applications go through the HCCSS, and government funding is available. Rates are set by the province and subsidies are available for those who can't afford it.
Some retirement communities only offer one type or level of care, while others provide many essentially offering a continuum of care, allowing seniors to transition as their needs change and age in place. Usually, as that happens, the cost of care increases but as long as it is affordable, a person may be able to stay in their chosen property until the end of life.
Cost of a retirement home in Mississauga
In Mississauga and Peel Region, the average starting cost for a retirement home is $4,300 (there are some that are significantly higher and others that may be a bit lower). Rates are based on the style/size of the suite, care packages required, second person and their needs, etc. It's important to contact the home you are interested in, to find out the cost you would pay for the room you want and the care you need to determine if their rates are affordable. Starting rates for memory care in a retirement community are as high as $6,000 and may range as high as $8 - $9,000/month. To fund their retirement living, seniors commonly utilize pensions, RRSPs, CPP, and proceeds from home sales. Consult the SeniorCareAccess.com Retirement Homes In Mississauga listings for a list of retirement communities and pricing from posted properties.
Medical and Safety Services
A key advantage of retirement home living in Mississauga is the inclusion of health services/support staff and safety services. When you contact a home, be sure to enquire about:
On-site doctor or regular doctor visits.
Care staff qualifications – PSW – Nursing – Registered Nursing, availability or access to.
In-house pharmacy.
Physiotherapy, convalescent, short-stay, and respite programs.
Wellness programs.
For needs beyond the scope of the home, two major hospitals, Credit Valley Hospital and Trillium Health Centre, offer various outpatient services. Other outpatient health-related agencies are also available in the area like the HCCSS, Region of Peel Health Services, Peel Memorial Center for Integrated Health & Wellness, and several Mental Health Resources.
Recreational and Social Activities
Engaging in leisure activities is a cornerstone of many Mississauga retirement communities. Most will offer:
Movie nights, concerts, visiting entertainers, and special holiday events.
Games, arts and crafts, indoor or outdoor gardening, exercise, cooking demonstrations, and brain fitness activities.
External trips to Mississauga's theatres, shopping malls, museums, parks, and the Living Arts Centre.
The city boasts over 522 parks, many with walking trails, and numerous recreational centres, making it an ideal place for seniors to mingle and remain active. The Square One Older Adult Centre is a notable organization that offers an array of programs tailored to seniors.
Transportation in Mississauga
For those unable to drive, many retirement homes provide transportation services. Independent seniors have various options:
MiWay (Mississauga Transit): Offers fixed pricing and a "Plan Your Trip" feature.
GO Transit: Offers a discounted rate for 65+ riders.
TransHelp and Trans Care: Services for specific regions.
Making the Right Choice
Choosing the right retirement home involves introspection and research:
Evaluate Needs: Determine where you want to live, how much care you need, desired social activities, what you are looking for in a residence, and proximity to external amenities.
Financial Considerations: Ensure the home fits within your budget, both now and in the future. It's always wise to consider places that can accommodate increased needs over time at a price you can afford.
Visits and Tours: Take a list of questions you want to ask of both the staff and other residents.

Retirement home regulations in Mississauga
All retirement communities in Mississauga and Ontario at large adhere to standards and regulations set out under the Retirement Homes Regulatory Authority. It's crucial to ensure any chosen community is licensed and abides by these regulations. The Retirement Homes Regulatory Authority (RHRA), is responsible for inspecting retirement homes and enforcing the Retirement Homes Act. ORCA is a voluntary retirement home association that many retirement communities choose to belong to. Their mandate is education and advocacy for the sector. They do not regulate retirement homes.

SeniorCareAccess.com: Your Comprehensive Guide to Retirement Living® in Mississauga
Discovering the ideal retirement home in Mississauga has never been more accessible or transparent. As Canada's largest unbiased seniors' housing directory, SeniorCareAccess.com is proud to be recognized as the original "Comprehensive Guide to Retirement Living®". With us, you get:
A Genuine Unbiased Directory:
1. Trustworthy Listings: Our commitment is to provide unbiased information empowering families to make informed decisions.
2. Sponsored Listings: Our directory is free to search however, there are options for retirement communities to purchase advanced listing options that provide immediate detailed information and priority positioning.
Extensive Coverage:
With over 6,000 senior housing options listed across Canada, our directory is unrivaled in its reach. Whether you're seeking luxury accommodations by Lake Ontario or community-oriented facilities in central Mississauga, Calgary, or Vancouver Island - we've got you covered.

Consulting services:
Understanding the senior and their family's journey in navigating the aging process, we also provide an unbiased consulting/navigation program that provides guidance and support covering a wide range of service needs such as retirement home navigation/placement, seniors' real estate, age in place options, downsizing, care planning, discharge assistance, and Executor services.
User-Friendly Search:
1. Advanced Filtering: Quickly find homes based on your specific needs – location, services, cost, and more.
2. Detailed Profiles: Each listing is comprehensive, providing insights into services, atmospheres, and other key factors.
Navigating the vast world of retirement homes in Mississauga and beyond doesn't have to be daunting. With SeniorCareAccess.com, you have a trusted partner dedicated to offering transparent, comprehensive, and unbiased information. Begin your search today and find the perfect home for yourself or your loved one.

Discover more about these listed retirement homes in Mississauga:

Evergreen Retirement Residence
Parkland on the Glen
Erinview Retirement Residence

Search ALL the retirement homes in Mississauga.